Ships knees
Published on April 30, 2014
Frankly, until recently we were not aware that ships had knees. In fact when we first heard about ships knees we wondered… uh…just where to look for them on the vessel. (Above a well-turned ankle?)
No wonder we were puzzled; ships no longer have knees. But they used to. The rounded hulls of the great wooden ships of the 18th and 19th centuries were strengthened against the pounding seas by a series of braces fashioned from the naturally curved limbs—"knees"—of live oak trees (Quercus virginiana). Once live oak is seasoned it becomes as hard as iron, and the grain running with the curves makes it even stronger. During the mid-nineteenth century when iron hulls came into use, live oak trees were no longer in demand.
But in the 1990s, truckloads of live oak were brought up to Massachusetts from South Carolina for the restoration of the USS Constitution ("Old Ironsides"), some of it having been retrieved from a supply stored underwater since the Civil War. When we learned that extra stock from that project was still available, we simply had to incorporate some live oak ships knees into the timber frame we were planning for the Cohasset Sailing Club.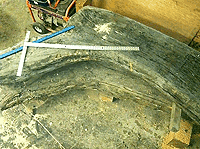 Pictured here are photos of live oak knees as we received them and a finished one installed in the new timber frame in Cohasset.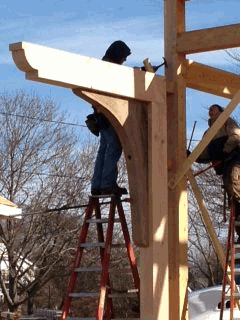 When the "old salts" at the Club retell this bit of nautical history they can reach up and pat a knee.