Houses & additions
"The tradesmen who worked on the house all said, 'I've seen a lot of timber frames out there, but this is something special."                                                                                                     —Joe C. (Decumanus Design & Build)
(Click on small photos to enlarge.)
---

A Family Home
We were fortunate and honored to be given the opportunity to rebuild a lost home on this property that was passed down through the generations. Capturing the views of the beautiful property while not disturbing the surrounding gardens during construction was one of a few requirements that helped get us to this design. With douglas fir timbers throughout the interior and some western red cedar accents outside, this house is ready to be loved by current and future generations.
---

Neighborhood Home
As the first timber frame in this new development, this douglas fir frame boasts an open entry and great room right off the spacious kitchen. To compliment the traditional craftsmanship of the frame a modern smart system was installed to control many aspects of the home at a touch of a button. A simple timber porch invites guest to explore this new home.
---

Lake House
This spacious 3-bedroom cottage was featured on the cover of Living Spaces magazine this Spring. It was built on a lakeside peninsula, with a long porch off the living room, and a balcony off the master bedroom. Even the bathtub has a water view!
---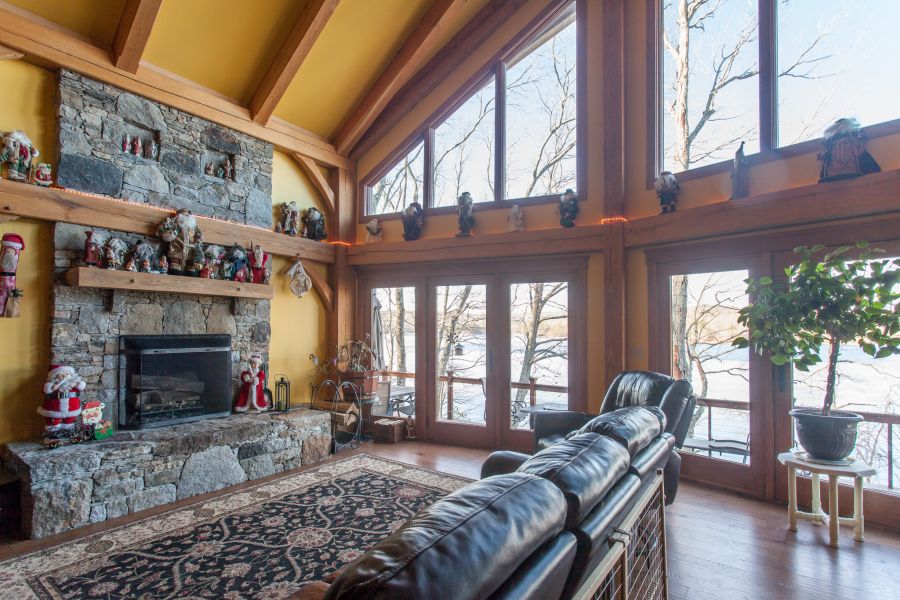 Prow-front frame
In these photos this year-round lakeside home is decked out for the holiday season. The house is built into a bank and the prow-front framing offers a spectacular view of the lake.  Read more here.
---
Contemporary home
For a contemporary look, these clients chose to incorporate metal elements with their wooden frame. A special feature is a retractable glass wall that expands the great room to include the covered veranda for entertaining.
---
Barn style frame
A basic barn frame creates an open plan with free-flowing spaces for casual family living.
---

Hammer beam trusses
Hammer beam trusses distinguish the living room of this light-filled home.
---

Wide open spaces
In this addition framed in Douglas fir, elements of the decor suggest the wide open spaces of American West. See more photos of the house here.
---

Open plan addition
This spacious addition provides a new main entrance to the house.
---
Addition with arched trusses
In this living room addition, an eyebrow window echoes the arch of the trusses.
---
Kitchens
These examples show how our timber frames enhance any kitchen decor.
---
Bedrooms
Whether cozy or spacious, a timber frame bedroom offers a special retreat for children or adults to relax and enjoy.
---

Lofts
A loft can be a home office, a second-floor family room, or a hallway leading to bedrooms. People building a vacation home, often want a loft to tuck in overnight guests.
---

Bathrooms
These timber frame bathrooms all have different looks, from rustic to spare elegance.
---

Fun and games!
Increasingly our clients want a space dedicated to family fun and entertaining.  Shown in the rooms below are pool tables, card tables, an antique bar, a fireplace, and a soaring cathedral ceiling.
---

Outdoor Living
While some homeowners use big expanses of glass to "bring the outside in," timber frame owners often want to bring the inside out with a timber frame porch or pavilion.
---

Fireplaces
For many people, the finishing touch to their living or great room is a wood burning fireplace, which has both aesthetic and practical values.
---

Stairways
Go up and down in style! These are some of the many looks our clients have chosen for their stairways: from traditional to contemporary.